If you long for the days when filmmakers could take a camera and a couple of bucks out to the middle of nowhere and return with their beautifully weird sci-fi masterpieces, then you're in luck, as Larry Blamire seems to believe that those days aren't over.
The Lost Skeleton of Cadavra starts by introducing us to Dr. Paul Armstrong (Larry Blamire) and his wife Betty (Fay Masterson), as they are going away to spend a few days in a little cottage in the woods where the scientist can of course, do science.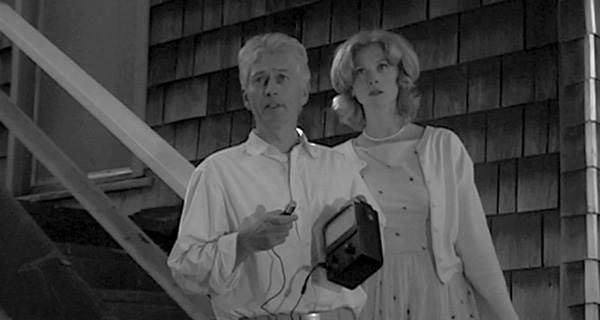 At the same time, a couple of Marvians from planet Marva, Kro-Bar and Lattis, crash land their ship in the same woods. After the crash, the Marvians find that that what they need to repair their ship happens to be the same material that Dr. Armstrong is studying. To top it all off, their pet mutant seems to have escaped during the crash.
As if that wasn't enough, Dr. Roger Fleming (Brian Howe), a sort of mad scientist, happens to be interested in the very same area, only he's there to try to find a haunted cave and awaken the titular Lost Skeleton of Cadavra (a biology class model bought on ebay) and use his power for himself. Although he clearly wasn't quite counting on finding such a sassy and unaccommodating skeleton.
What ensues as they all bumble through the forest running into one another is 90 minutes of memorable, quotable hilarity in a near perfect comedic tribute to 50's sci-fi.
I'd be remiss if I didn't bring up Animala (Jennifer Blaire). She completely steals the show, while being almost completely mute aside from her single repeated word of dialogue. In her black tights and short hair, she's an apparent throwback to another bit of 50's sci-fi,
Cat-Women of the Moon
.
The only real problem here is knowing the whole time that there's a completed sequel that's been lying around for a long while awaiting distribution, and that won't be available until mid-2010.
Mark your calendars.